2017 Chevy City Express Cargo Van Interior Dimensions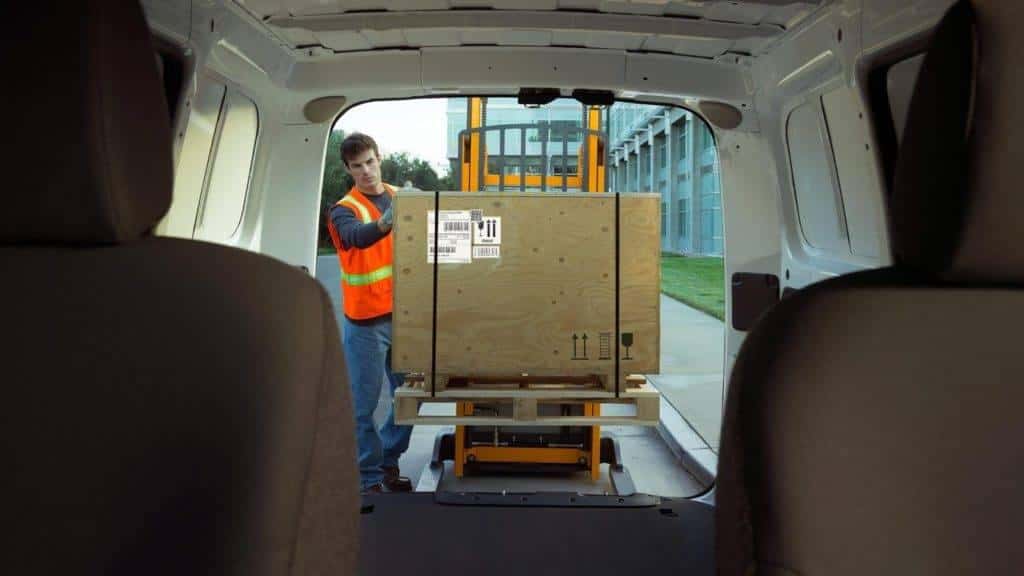 The 2017 Chevy City Express Cargo Van interior dimensions provide Florence, KY and Covington, KY businesses with access to the usable space they need without any unnecessary bulk. Read on to learn about the expansive dimensions of this compact dynamo and the design features that make it so user-friendly, then schedule an appointment with a representative from Tom Gill Chevy to see how a City Express can get your small business moving today.
How Roomy is the Cargo Bay?
Just because you've chosen a compact cargo van for your business needs, doesn't mean you should have to sacrifice the space you want. The 2017 Chevy City Express Cargo Van offers 122.7 cubic feet of interior cargo space with open space measuring a full 53-inches tall by 48-inches wide at the wheel wells and 82.8-inches deep. For occasional long parcels, the front passenger seat can be folded forward to make even more space.
In all, the 2017 Chevy City Express Cargo Van can accommodate as much as 1,500-pounds of cargo in its well-designed interior space.
What Loading Features Does the City Express Include?
The Chevy City Express makes it simple for business owners to load inventory and equipment, and remove it as needed, with plenty of wide openings that allow easy access to every part of the cargo bay:
Wide Rear Doors: The 60/40 split rear doors open a full 180-degrees to create a 49.9-inch opening that allows for quick loading and unloading of the cargo area without the doors getting in the way.
Low Load Height: With floor that is just 21.1-inches from the ground, even the heaviest cargo is easy to get into the bed of the City Express.
Dual Side Doors: The two sliding side doors make it easy to access to cargo behind the passenger seats, regardless of what side of the vehicle it happens to be on. Each door is wide as well, opening a full 27-inches. And, since drivers can get in on both side of the vehicle, you'll never have to stand in the street to unload again.
Load Security: Six heavy-duty D-ring hooks help drivers to secure awkward cargo and ensure that valuable goods remain intact and you remain safe on the road.
Convenient Lighting: The rear cargo area lighting brightens up the workspace and makes working at night convenient and secure.
Vinyl Flooring: To provide a non-skid, easy-to-clean interior workspace, Chevy offers a thick vinyl coating for the City Express cargo area.
Customizable Accessories: Because every business is unique, Chevy also offers customizable shelving and bins designed to fit the vehicle right from the factory.
See Why the 2017 Chevy City Express Cargo Van Interior Dimensions Have Florence, KY and Covington, KY Drivers Thrilled
The 2017 Chevy City Express Cargo Van interior dimensions make it easy for Florence and Covington, KY businesses to take their show on the road. Contact Tom Gill Chevrolet at 859-371-7566 or visit our showroom at 7830 Commerce Drive in Florence, KY to explore its capabilities today.