2017 Chevy City Express Cargo Van Exterior Features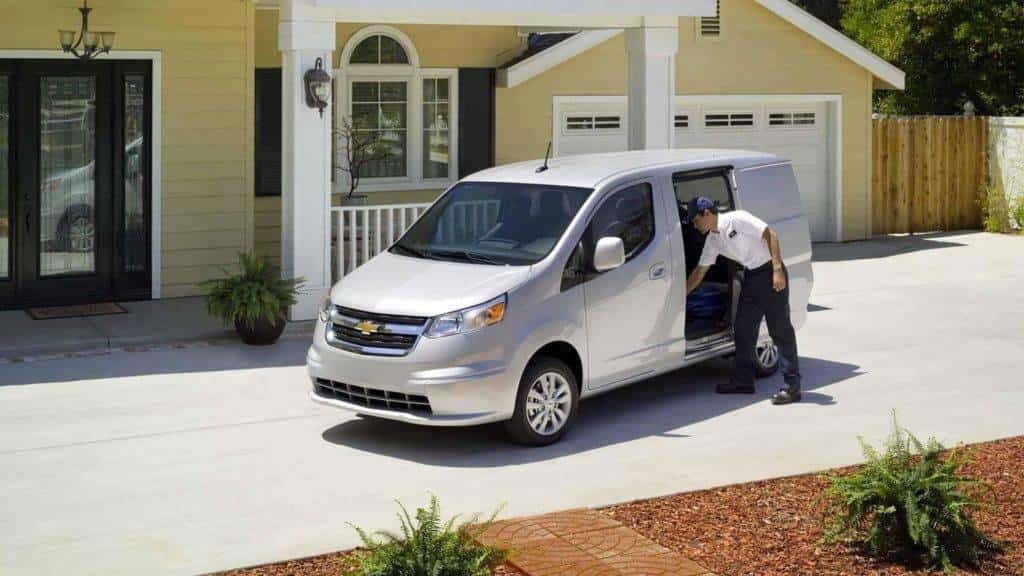 The 2017 Chevy City Express Cargo Van exterior features offer Florence, KY and Covington, KY business owners an alternative to the big, bulky business vehicles of the past. Compact and designed to fit well in busy urban environments, the City Express is nimble, with a tight 36.7-foot turning diameter that makes it the ideal choice for businesses on the move. See what the City Express you and yours, then stop into Tom Gill Chevrolet and get behind the wheel of one of these cutting-edge new cargo vans today.
Exterior Features
Being able to move goods and equipment is important to your business, and the Chevy City Express makes it easy to do with many features that provide access, maneuverability, and customization:
Wide Opening Rear Doors: Getting goods out the rear cargo bay is a snap thanks to the 60/40 rear barn doors that open a full 180-degrees.
Dual Side Doors: Sliding side doors located on both the driver's and the passenger's side of the van allow you to access tools and equipment easily without having to crawl across cargo or stand in the street.
Compact Footprint: The City Express has a narrow 68.1-inch wheelbase and measures just 183.3-inches long. This small size allows business owners to easily navigate tight city streets, find parking and more without giving up cargo space.
Low Step-in: With a side step-in height of just 19.2-inches, you won't have to strain to get heavy parcels in place. And, with a front entry height of only 14.8-inches, climbing in and out all day won't be a chore either.
Heated Mirrors: Drivers can opt for heated, power-adjustable exterior mirrors to improve visibility and safety in cold winter months.
Visibility: Standard Solar-Ray tinted glass, halogen headlamps, and daytime running lamps ensure you can see and be seen easily in the City Express.
Exterior Design
The City Express Cargo Van exterior is designed with small business in mind. Sleek and aerodynamic, it cuts through the air with ease, reducing drag and wind resistance to improve fuel efficiency – providing ratings as high as 26 mpg/highway in recent EPA testing.
The City Express also loses the top-heavy boxy look of most commercial vans, offering drivers something that is both more functional and more attractive. And, thanks to the smooth, customizable exterior, there is still plenty of space for businesses to add their own graphics, providing an excellent opportunity to advertise at every turn.
For businesses that need even more capability from their City Express, a number of exterior accessories, such as racks and steps, are available as aftermarket options for this popular minivan.
The 2017 Chevy City Express Cargo Van Exterior Features Make Florence, KY and Covington, KY Business Easy
Explore the 2017 Chevy City Express Cargo Van exterior features and take your Florence, KY and Covington, KY business on the road. Contact Tom Gill Chevrolet at 859-371-7566 or visit our showroom at 7830 Commerce Drive in Florence to learn more or see this impressive van in action today.