2017 Chevy City Express Cargo Van Interior Utility Features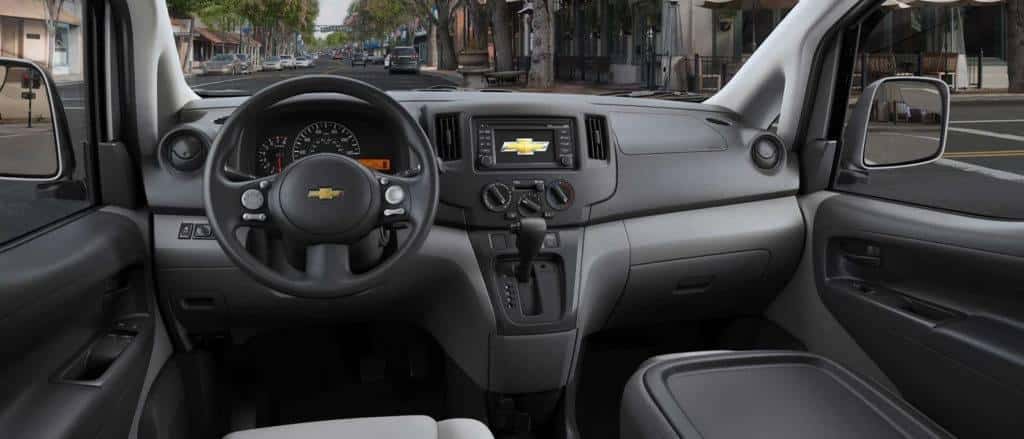 The 2017 Chevy Express Cargo Van interior utility features are designed to get and keep Florence and Covington, KY businesses moving. Check out the long list of standard and available interior equipment designed to make every job easier, then stop by Tom Gill Chevrolet to see how the Express Cargo Van can be configured to meet your small business needs.
Utility Features
The Chevy Express Cargo is designed to keep businesses moving with a large, easy to access space that can be customized to accommodate any small business need:
Barn Doors: The two 40/60 split rear cargo doors open a full 180-degrees to provide easy access to the entire rear area of the van.
Side Doors: Drivers can choose dual sliding side doors to allow them to stow tools and equipment within easy reach.
Customizable Bins: Aftermarket add-ons, including customizable bins, allow drivers to configure the interior space to suit their unique business needs.
Mobile Office: The center console and front-folding passenger seat act as a second mobile office space, providing room for papers, electronics, and a writing platform on the back of the passenger seat, as well as a charging station for portable electronics.
Vinyl Flooring: The front and rear vinyl floor covering makes it easy to keep the interior clean – even when messy spills take place.
Cargo Hooks: Six D-ring cargo hooks can help to secure heavy loads and prevent them from slipping while the vehicle is in motion.
Cargo Lighting: Cargo area lighting lets drivers get a good look at the rear area of the vehicle, making it easy to retrieve tools and cargo, even at night.
Auxiliary Power Outlets: For easy charging of portable electronics or small tools, the optional auxiliary 12V power outlets located on the front console do the trick.
Aftermarket Accessories: The Chevy line of cargo vans is one of the most popular on the road, with dozens of systems available to customize the interior space and make it work for any business type.
Interior Dimensions
The compact design of the 2017 Chevy City Express Cargo Van is deceptive. Drivers have more than enough room to load up equipment and inventory – as much as 1,500-pounds worth – in the impressively roomy space:
Height: The interior ceiling is 53 inches high, plenty of space for shelving and tall orders.
Width: Drivers have access to 48 inches of load space between the interior wheel wells and even more in front of the side doors.
Depth: With both seats in place, the City Express Cargo provides 82.8 inches of load depth. The front passenger seat can be folded flat to allow for longer loads when needed.
Volume: The overall interior volume in the Express van is 122.7 cubic feet, plenty to get most businesses moving.
The 2017 Chevy City Express Cargo Van Engine Interior Utility Features Impress Florence and Covington, KY Drivers
The flexibility of the 2017 Chevy City Express Cargo Van interior utility features delight Florence and Covington, KY businesses who need more than just empty space. Contact Tom Gill Chevrolet at 859-371-7566 or visit our showroom at 7830 Commerce Drive in Florence, KY to see one in action today.