How to Program the Chevy Garage Door Opener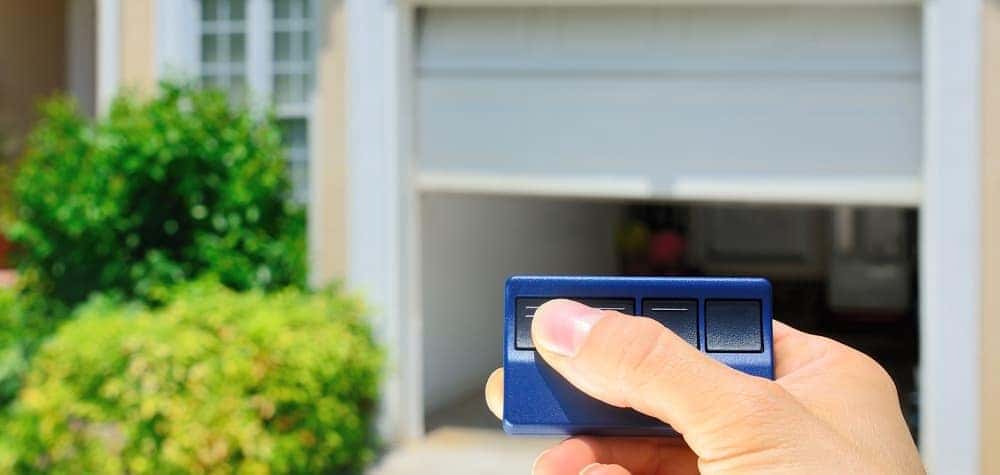 If you're a new Chevrolet owner in the Cincinnati, OH area and need to learn how to program the Chevy HomeLink® garage door opener, follow our step-by-step guide at Tom Gill Chevy. Contact us online if you have questions or need help programming the garage door opener.
Programming Your Homelink Garage Door Opener for the First Time
Make sure your remote control transmitter has a fresh battery.
With your car parked facing your garage, start the ignition.
Locate your HomeLink® buttons, which will be in one of three places: your rearview mirror, your visor, or your overhead console.
Holding your remote control transmitter 1 to 3 inches away from your HomeLink® control buttons, simultaneously press the desired HomeLink® control button and the corresponding remote control button.
Hold the button until the HomeLink® indicator light flashes slowly and then it either changes to a solid light or flashes rapidly.
The change indicates that a frequency signal was detected.
If the HomeLink® indicator light is solid, programming is complete. If the HomeLink® indicator light flashes rapidly continuously, follow the next step below.
Push the HomeLink® controller button twice to activate. If that doesn't work, follow the next group of steps.
When the HomeLink® indicator light flashes rapidly continuously, it's because you have a rolling code system. To complete the programming, follow the additional steps below.
Exit the car and enter your garage, and locate the garage door opener motor.
Find the "Learn" or "Smart" button, which is next to the hanging antenna wire on the back of the motor.
Press the Learn button once, and you will have 30 seconds to complete the next step.
Return to the vehicle, and push the programmed HomeLink® control button three times to complete the activation process.
Repeat the previous four steps for the remaining two HomeLink® buttons, and your garage door should be activated.
Once programmed, the HomeLink® wireless control system and the original remote control transmitter can each be used to operate your garage door.
Learn More at Tom Gill Chevy!
If you are having difficulty programming your Chevy garage door opener, refer to your owner's manual. Or you can visit our service center near Covington during service hours, and one of our trained mechanics will help. You can also explore the latest Chevrolet technology and features like Chevy key fob programming or Chevy MyLink and how to update it, as well as tips on cleaning your floor mats and how to wash your car properly.
Service Tips From Tom Gill Chevy
Most drivers who notice an oil leak dripping or puddling beneath their car are going to think the worst. While you should always investigate an oil leak so you don't suffer engine damage or a breakdown around Cincinnati, OH, many of the causes are simple and easy to fix. One of the easiest to identify is…

The tires on your Chevy car, truck, or SUV are one of the most importants parts of your vehicle. Over time, the tires naturally experience wear and tear from regular driving, road conditions, and braking habits. As part of your routine automotive maintenance, you should check the tire tread to ensure that it's not worn…

Simple vehicle maintenance can go a long way, and maintaining proper fluid levels is just one way to ensure your vehicle runs smoothly for many years to come. Learn more about Chevy Certified Service with your friends at Tom Gill Chevrolet. Contact Us Schedule Service Video Transcription "You need to stay hydrated to perform your…