All About Oil Change Frequency: How Often to Change Your Oil

At Tom Gill Chevrolet, we're here to help you with all your vehicle service and repair questions. One of the most important aspects of regular vehicle service and maintenance is an oil change. We want to help you learn more about oil changes and how often to change your oil! While every vehicle is different, most new vehicles require an oil change every 5,000 to 7,000 miles. With that said, your vehicle may require an oil change as little as often 3,000 miles or as often as every 10,000 miles. Still, it's important to change your oil regularly. If you don't change your oil often, engine damage can occur. Refer to your car's owner's manual or contact us to learn more.
---
Why is Changing Your Oil Important?
Oil is critical to your vehicle's engine and drivetrain. It lubricates key engine and mechanical components that help your vehicle operate smoothly and efficiently. Over time, however, as oil cycles through the engine during normal use, it gets contaminated via internal combustion. Changing it at the recommended intervals helps ensure optimal gas mileage and, more importantly, lubricates your vehicle's parts, providing needed relief from high temperatures and friction.
---
How Often Should You Change Your Oil and How Much Will It Cost?
Recommended oil change frequencies are measured in the number of miles traveled between oil changes, and vary by vehicle and oil type chosen. Often, a vehicle requires an oil change sometime after 3,000-10,000 miles. Some new cars & trucks will alert you when it's time for an oil change and help you keep track of your oil life digitally. In other, older vehicles, you'll have to rely on windshield stickers provided by your mechanic or service shop.
Oil changes often cost anywhere from $45-$70, but that amount can be more or less depending on what kind of oil you use (i.e., conventional, synthetic, or synthetic blend), how much it requires, and how much labor is required to change your oil. Shopping our service specials if you get your oil changed with us can help you save more!
Need to know if it's time to get your oil changed near Covington and curious about the cost? Contact our Florence service center today.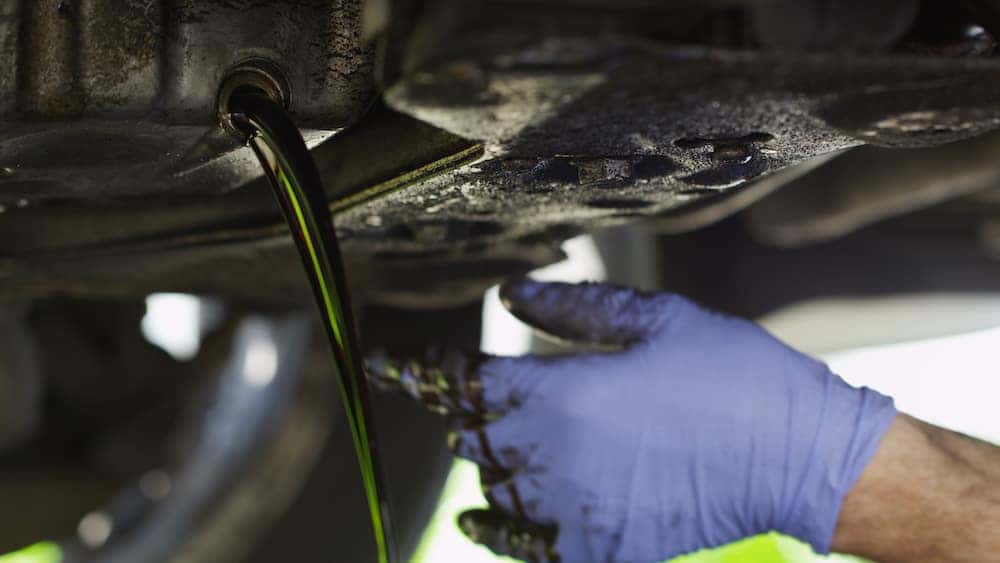 ---
What Type Of Oil Should You Use In Your Car?
There are many types of oil, from regular to synthetic to synthetic blends. Each has benefits. Conventional oil is usually more cost-effective. Full synthetic oil is usually longer-lasting and cleaner to burn. Feel free to reach out to our team of oil change experts to learn more about the benefits of using each, or to schedule service.
---
Which Viscosity Oil Should You Use In Your Car?
There are several grades of oil, measured in viscosity. You'll see this measurement listed like "5W-30" or "10W-40". It's critical that you choose the right viscosity oil for your engine in order for it to work properly. Defer to your vehicle's owner's manual or our service team to help you find the right oil viscosity.
---
Contact Us For Oil Change Advice and Other Service Suggestions
Not sure why oil is leaking from your filter? Not sure if you should change your oil after storing your vehicle without driving it in Independence? Interested in learning how to perform a DIY oil change? We're happy to go over how to change your own oil, too! These are the kinds of questions our service technicians can help you with! Contact us and we'll be glad to further assist you with all your oil-change and service questions.
Our Service Specials
We are currently updating our Specials. Please check back soon.
More From Tom Gill Chevrolet
The vivid 2023 Chevy Trailblazer colors are stunning! There are several 2023 Chevy Trailblazer exterior colors to choose from, including a white Chevy Trailblazer. There are enough choices to ensure that this vehicle would look great in any Florence driveway. And we haven't even talked about the gorgeous interior options or the custom packages that…

There's a lot for Cincinnati, OH drivers to love about the 2023 Chevy Trailblazer interior. The 2023 Chevy Trailblazer interior colors are exquisite and make for a stylish ride. We're also impressed by the generous 2023 Chevy Trailblazer interior dimensions, especially when it comes to legroom and cargo space. Let's take a closer look inside this…

The new Chevrolet Silverado 1500 is equipped to take on the toughest jobs from Cincinnati, OH to Covington and beyond. It has the durability and unbeatable comfort that drivers need to count on their vehicle day in and day out. So, how much is the Chevy Silverado? The 2023 Chevy Silverado price starts at $35,600…