How to Check Your Car's Oil

Drivers in Cincinnati, OH know that it's important to stay up to date on regular maintenance to keep their new Chevy in great condition. That's why Tom Gill Chevrolet offers lots of service tips to help you know what your car needs. If you're wondering how to check car oil, or why it's important to do so, keep reading.
---
How to Check the Oil Level in a Car
Don't worry if you don't know how to check car oil. It's easy, and we're here to help!
Make sure the vehicle is parked on level ground and the engine is turned off and cold.
Open the vehicle's hood and find the dipstick. If needed, refer to your owner's manual.
Pull the dipstick out of the engine and wipe any oil from the end of it.
Re-insert the dipstick all the way back into its tube, then pull it out and look at both sides to see where the level is.
If the oil level is below where it should be, add more with a funnel. Also, make sure there isn't debris in the oil, which can damage the engine. This can happen in several ways:
Off-roading
Driving on dirt or gravel roads
Racing
Heavy towing
If the oil is dirty, you're going to need an oil change.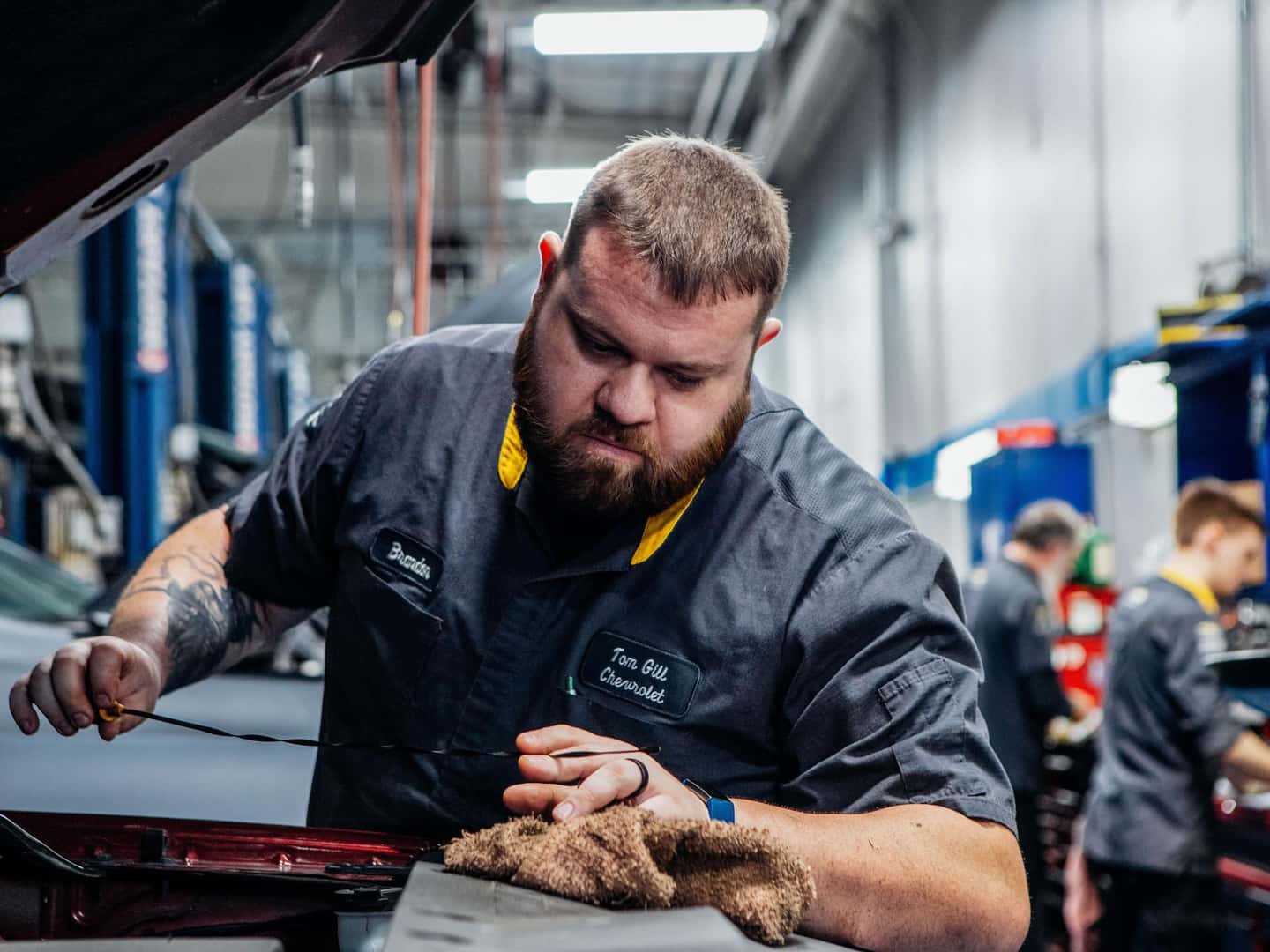 ---
Why You Should Know How to Check Car Oil
Most obviously, it's important to know how to check oil level in your car so you don't run out of oil between Covington and Independence. Even when you know how often to change your oil, you still need to check it once a month. If you don't your car will let you know if you need to check the oil level in these ways:
Check engine and/or oil change lights are illuminated
Knocking sound coming from the engine
Dark and dirty oil
Smoke emitting from the exhaust pipe
Engine overheating
---
Get Your Oil Changed at Tom Gill Chevrolet
No matter where you are, when you know how to check car oil and recognize when you need an oil change, you're not far from a Tom Gill Chevrolet service center! We have locations in Cincinnati and Covington that can take care of all your regular maintenance needs.
Our Service Specials
We are currently updating our Specials. Please check back soon.
More From Tom Gill Chevrolet
The vivid 2023 Chevy Trailblazer colors are stunning! There are several 2023 Chevy Trailblazer exterior colors to choose from, including a white Chevy Trailblazer. There are enough choices to ensure that this vehicle would look great in any Florence driveway. And we haven't even talked about the gorgeous interior options or the custom packages that…

There's a lot for Cincinnati, OH drivers to love about the 2023 Chevy Trailblazer interior. The 2023 Chevy Trailblazer interior colors are exquisite and make for a stylish ride. We're also impressed by the generous 2023 Chevy Trailblazer interior dimensions, especially when it comes to legroom and cargo space. Let's take a closer look inside this…

The new Chevrolet Silverado 1500 is equipped to take on the toughest jobs from Cincinnati, OH to Covington and beyond. It has the durability and unbeatable comfort that drivers need to count on their vehicle day in and day out. So, how much is the Chevy Silverado? The 2023 Chevy Silverado price starts at $35,600…