Whether you're filling up on gas, grabbing groceries, or heading to work in Florence, the team at Tom Gill Chevrolet has your back. We're committed to helping you and your passengers stay safe every time you get behind the wheel, and proper sanitation of your vehicle interior is one of the most effective ways to stop the spread of viruses and other harmful germs. In the guide below, we'll show you step-by-step how to sanitize your car effectively.
---
Sanitation Supplies to Keep in Your Car
Keep your glove box stocked with these sanitation essentials:
A box each of small, medium, and large nitrile gloves.
Disinfectant wipes or sprays for quickly wiping down door handles and dash controls.
Pocket-sized alcohol-based hand sanitizers to use before and after leaving your vehicle.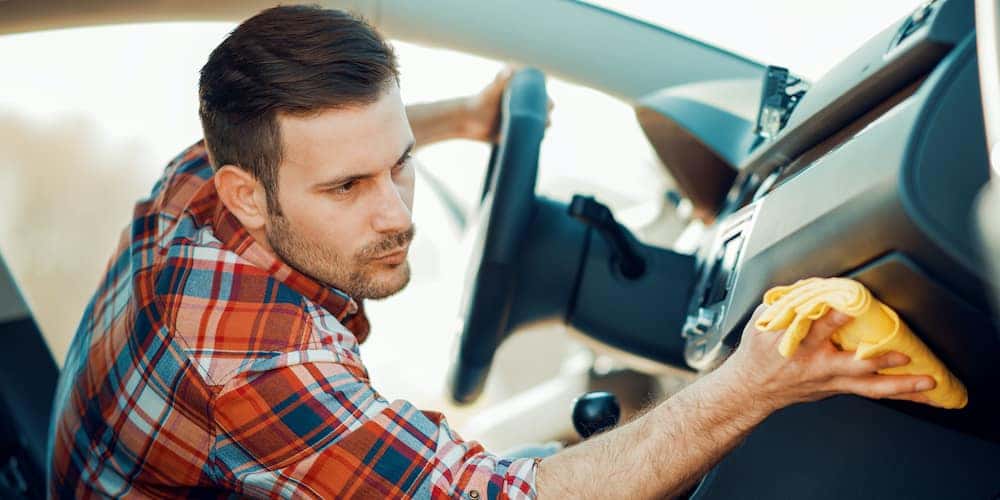 ---
How to Sanitize Your Car Interior
Identify the most common touch points in your car interior, and develop a sanitation routine to follow each time you get behind the wheel. This should involve wiping down any surfaces or controls that you touch at some point during every drive. Once or twice a week, set aside time for a deep-cleaning of areas you touch less frequently. Follow these checklists for routine and weekly car sanitation:
Routine Sanitation Checklist
Before you leave for Cincinnati, OH, take a minute to sanitize your car interior. Wash your hands, put on a pair of nitrile gloves, and wipe down the following surfaces with disinfectant wipes:
Mirrors
Key fob
Fuel cap
Door handles
Steering wheel
Interior controls
Touchscreens
Gear selector
Dashboard
Seatbelts
Deep Clean Checklist
Learning how to sanitize your car must include periodic deep-cleaning. Once or twice a week, focus on sanitizing these additional surfaces:
Cupholders
Cubbyholes
Display screens
Radio control settings
Voice control settings
Cruise control settings
Turn indicator stalks
Air conditioner vents
Navigation settings
Paddle shift levers
Gear selector lever
Console armrests
---
Staying Safe Indoors and Out
Don't wait to sanitize until you get inside your car. Preventing virus transmission also means disinfecting high touch surfaces in your home, and taking preventative measures like social distancing and wearing a mask in public places or when distancing isn't possible. If you're picking up groceries in Independence, remember to wear gloves while inside the store and dispose of them on your way out. Before and after leaving home, wash your hands for a minimum of 20 seconds, lathering between your fingers and above your wrists.
---
Learn How to Sanitize a Car With Tom Gill Chevrolet
At Tom Gill Chevrolet, we care about keeping you and your passengers safe every single time you get behind the wheel in Florence. Connect with our team for expert tips on how to care for your car at home. Tom Gill Chevrolet technicians happy to answer any queries about your car's recommended maintenance schedule!