How to Update Chevy MyLink Software



If you've recently purchased a new Chevy vehicle from Tom Gill Chevrolet, you're probably excited to start putting the Chevy MyLink app feature to good use! Often mistakenly referred to as "My Chevy Link," this innovative entertainment and connectivity system allows Cincinnati, OH drivers to reimagine their daily commutes with access to Chevy MyLink apps, Apple CarPlay and Android Auto, and so much more. It's easy to install a Chevrolet MyLink update, too! Find out how to download Chevy MyLink software updates and what to do if Chevy MyLink is not working, then explore the many advantages of Chevrolet MyLink below.
Chevrolet MyLink Update in One Simple Step
To say that a Chevrolet MyLink update is simple is actually quite an understatement! When updates are available, they should auto-install when you turn your vehicle on. It's not likely that you'll run into any issues along the way, but if you suspect your system isn't updating on its own, you're welcome to schedule an appointment with our service department near Covington. Our GM-certified technicians know your Chevrolet model inside and out and will get to the root of the problem quickly when you need help to download a Chevy MyLink software update.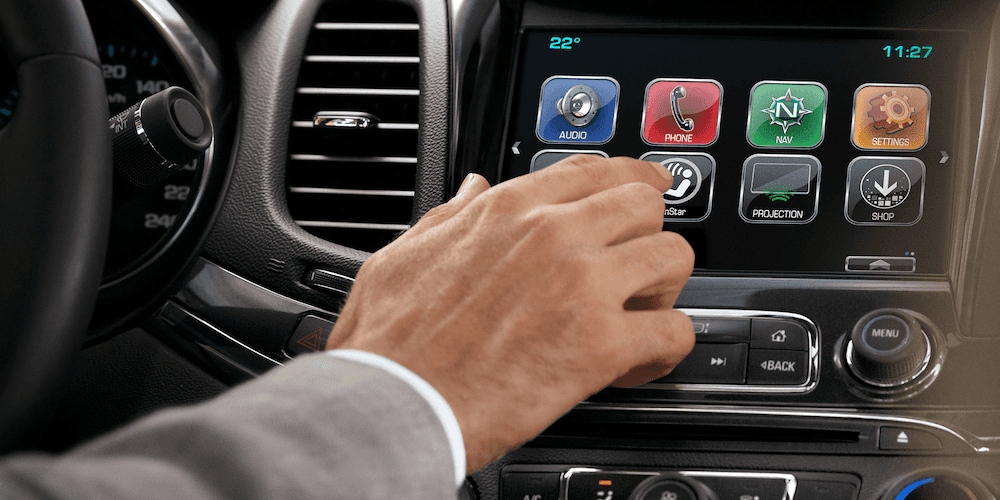 Allow App Access with a Chevrolet MyLink Update
Now that we've learned how easy it is to update the Chevy MyLink software, let's explore how to connect to your favorite apps via your smartphone. Updating the Chevy MyLink auto to allow app access is necessary to achieve this. Learn how to do so by following our step-by-step guide:
Press the phone button on the Chevrolet MyLink screen.
Select "Pair Device."
Select "Chevy MyLink" from your phone's Bluetooth menu.
Your phone will display a message with a pin number — enter this number into the vehicle's touchscreen.
Push the "Yes" button on the MyLink screen when prompted.
That's it! Using Apple CarPlay and Android Auto integration, you can now access all of your favorite apps on your vehicle's touchscreen.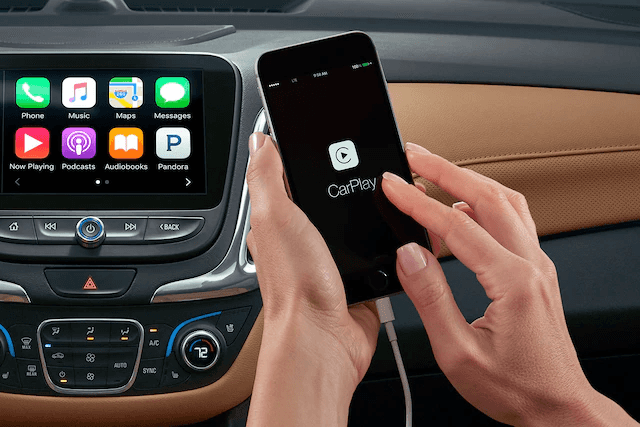 How to Troubleshoot When Chevy MyLink Isn't Working
We understand how frustrating it can be when Chevy MyLink isn't working. If you're having problems with your Chevy MyLink app, try these troubleshooting tips:
Make sure your phone's software is up-to-date. Download any Chevy MyLink software updates and follow their directions.
Is your phone paired to another Bluetooth device? Some smartphones can only hold one connection at a time. If your phone connected to something else by accident, it may have disconnected from the Chevy MyLink app.
Make sure Bluetooth is enabled on your smartphone.
Keep your smartphone as close as possible to Chevy MyLink.
A low smartphone battery can interfere with proper pairing. Make sure your phone has a good charge.
How to Reset Chevy MyLink
If nothing else has worked and you're still having problems connecting to the Chevy MyLink app, you might need to reset the system by following these directions:
From the Home menu, select the "Settings" icon.
Select "Return to Factory Settings."
Depending on the type of issue you're having, you might need to try these options: "Restore Vehicle Settings," "Clear All Private Data," or "Restore Radio Settings" (depending on the type of issue that you're having). You may need to progress through multiple options here to resolve your issues fully.
Chevy Infotainment 3
If you drive a newer Chevrolet, you might be wondering where your MyLink system is. Don't worry—you have the latest in infotainment tech and features on your ride. It just has a new name: Chevy Infortainment 3. Chevy Infotainment 3 continues to bring Apple CarPlay® and Android Auto™ to the latest new Chevy models, letting you customize your homepage icons and personalize all of your vehicle settings.
Why would you want to have access to your phone's apps through Chevy Infotainment 3? This system puts the power of your smartphone at your fingertips while you're driving, but in a way that keeps your eyes on the road. With Chevy Infotainment 3 and your infotainment touchscreen, you'll be able to easily make phone calls, get navigation, listen to your favorite music and podcasts, get traffic updates, and get help at the touch of a button. Chevy Infotainment 3 keeps you connected on the road, which makes for a safer, more enjoyable ride.
Additional Chevy MyLink Features
In addition to having access to your most important apps on your smartphone, Chevy MyLink also delivers its own unique set of features for Independence drivers to enjoy, including:
Text message alerts allow you to listen to incoming text messages and respond verbally, so you never have to take your hands off the wheel or eyes off the road.
Similar to text message alerts, Siri® Eyes Free is available for iPhone users and allows hands-free access to important messages while you're driving.
SiriusXM® Travel Link/NAVTraffic offers to-the-minute updates on weather and traffic in your area.
Turn-by-turn navigation ensures you never miss a step or make a wrong turn while navigating.
Available 4G LTE Wi-Fi® hotspot connection enables you to connect to what matters while on the go.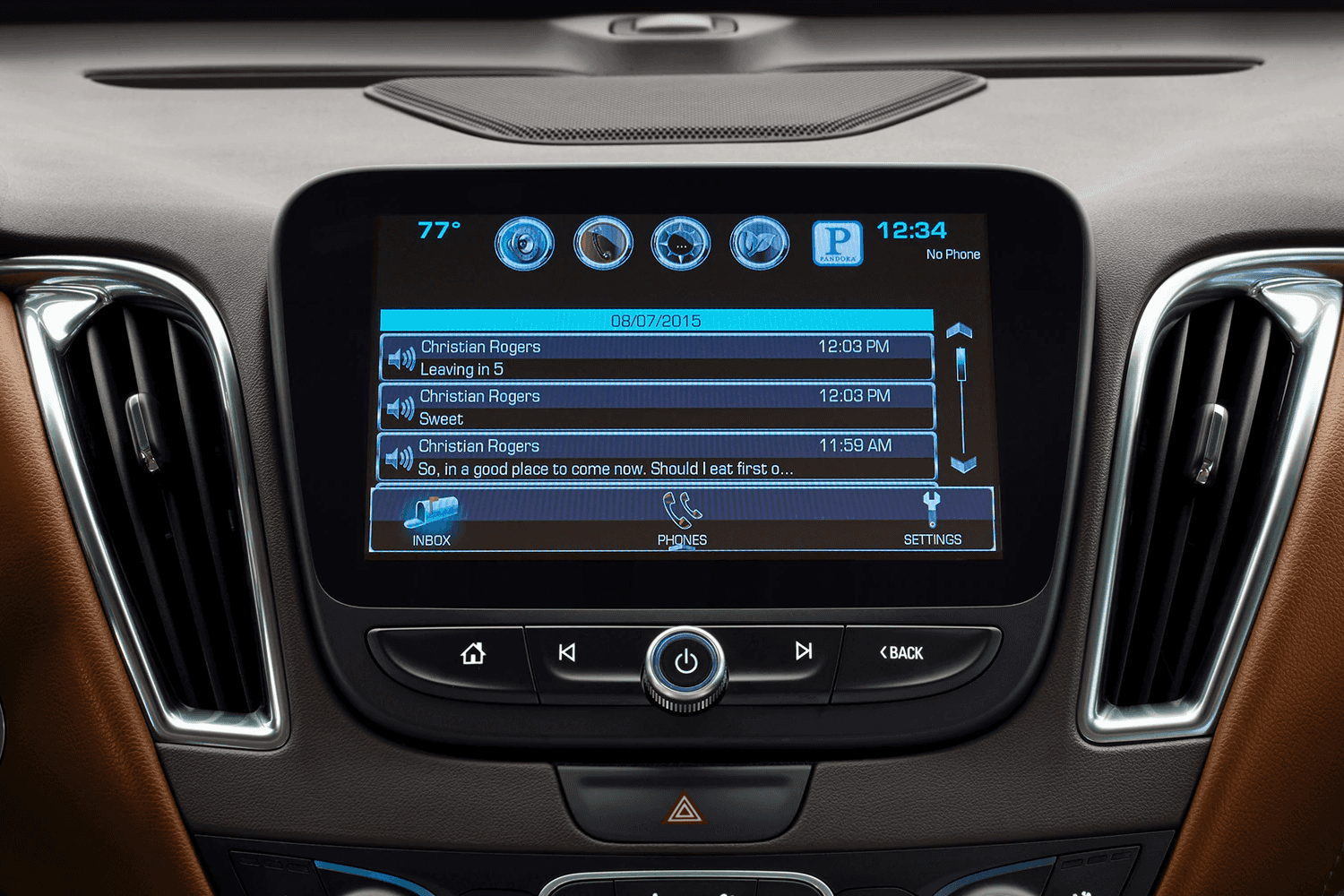 MyLink Teen Driver Features
Have a new teen driver in the family? With the Chevy MyLink Teen Driver technology, you can send them off with confidence while also helping them develop smart driving habits. Even when you're not in the car, the following features allow you to ensure they're driving with caution:
Set music volume limits
Turn off audio until both front passengers are seatbelted
Send a visible and audible warning when the driver exceeds your preset limits
When your teen driver arrives back home, you can review their vehicle report card to see how they drove when you weren't there. Use this information to help your new driver learn from their mistakes and become a safer driver even when you can't be with them.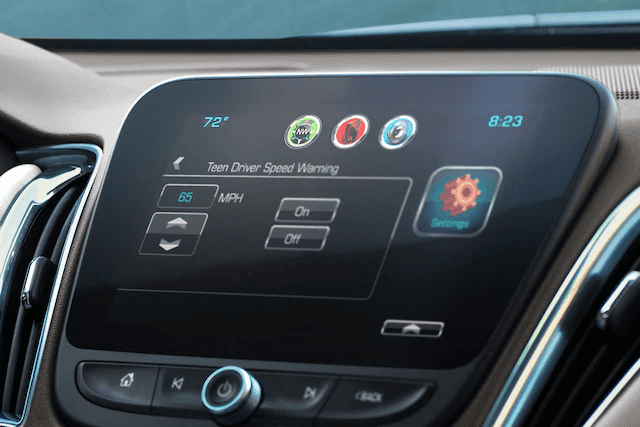 Find a Chevrolet Model with MyLink at Tom Gill Chevrolet!
Whether you're searching for a new Chevy with MyLink, need help with a Chevrolet MyLink update, or you need help programming a Chevy garage door, the experts at Tom Gill Chevrolet near Burlington are here to help! Contact us with additional questions if your Chevy MyLink is not working or head right over to our showroom in Florence, KY.
More from Tom Gill Chevrolet
The vivid 2023 Chevy Trailblazer colors are stunning! There are several 2023 Chevy Trailblazer exterior colors to choose from, including a white Chevy Trailblazer. There are enough choices to ensure that this vehicle would look great in any Florence driveway. And we haven't even talked about the gorgeous interior options or the custom packages that…

There's a lot for Cincinnati, OH drivers to love about the 2023 Chevy Trailblazer interior. The 2023 Chevy Trailblazer interior colors are exquisite and make for a stylish ride. We're also impressed by the generous 2023 Chevy Trailblazer interior dimensions, especially when it comes to legroom and cargo space. Let's take a closer look inside this…

The new Chevrolet Silverado 1500 is equipped to take on the toughest jobs from Cincinnati, OH to Covington and beyond. It has the durability and unbeatable comfort that drivers need to count on their vehicle day in and day out. So, how much is the Chevy Silverado? The 2023 Chevy Silverado price starts at $35,600…