How Much is an Oil Change?

The answer to "How much is an oil change?" can vary depending on the type of car you drive and what kind of oil it requires, among other factors.
Generally, the cost of an oil change ranges from $30 to $50.
If you buy your new Chevy from Tom Gill Chevrolet, your oil change is on the house as part of the Tom Gill Advantage.
Not covered by the Tom Gill Advantage? We offer a rotating selection of service specials that are designed to help you save on routine maintenance like oil changes near Cincinnati, OH. For an exact price on your oil change, contact us with your make and model information.
How Much Does it Cost for an Oil Change?
The cost of an oil change may vary depending on your vehicle's requirements, but the following key factors will give you an idea of what to expect:
Some modern vehicles require synthetic oil, which can be more expensive than conventional oil, costing between $45 and $70 on average. Though it costs more, synthetic oil is designed to last longer. If you're unsure whether your vehicle requires it, you can consult your owner's manual.
If you're interested in the performance of synthetic oil but don't want to pay the higher price, consider a synthetic/conventional blend.
Other issues discovered during service could impact the cost of your visit, too. An oil change is a regular, routine visit to a service center, which means it's a good time to have other issues checked out. Just mention that unusual noise or shaky braking when you schedule your appointment.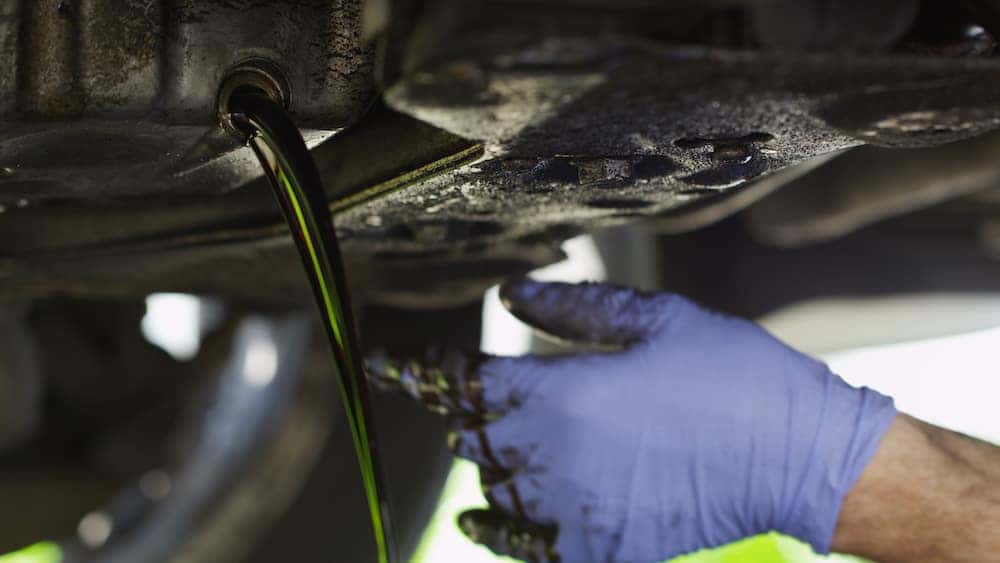 Why Trust Tom Gill Chevrolet for an Oil Change?
When you entrust our Independence-area service department for your oil change services, you'll benefit from the following perks:
Our certified, factory-trained technicians know your vehicle like the backs of their hands. Whether you're driving a brand new Chevrolet Equinox, a vintage Corvette, it's familiar.
Drive another make? Our service team is staffed by auto veterans, and we'll take care of it just like it were one of our own.
If you bought your vehicle from Tom Gill Chevrolet, you'll enjoy lifetime free oil changes thanks to our Tom Gill Advantage! It's such a great deal that we wanted to say it again.
Head to Tom Gill Chevrolet for an Affordable Oil Change
At Tom Gill Chevrolet, the answer to "How much does it cost for an oil change?" will put a smile on your face. We're just a short drive away from Burlington and Newport, so schedule your oil change today!
For more service advice, consult our tips and tricks online, where you'll find the information you need on jump-starting your car, changing a tire, and more.
More from Tom Gill Chevrolet
The vivid 2023 Chevy Trailblazer colors are stunning! There are several 2023 Chevy Trailblazer exterior colors to choose from, including a white Chevy Trailblazer. There are enough choices to ensure that this vehicle would look great in any Florence driveway. And we haven't even talked about the gorgeous interior options or the custom packages that…

There's a lot for Cincinnati, OH drivers to love about the 2023 Chevy Trailblazer interior. The 2023 Chevy Trailblazer interior colors are exquisite and make for a stylish ride. We're also impressed by the generous 2023 Chevy Trailblazer interior dimensions, especially when it comes to legroom and cargo space. Let's take a closer look inside this…

The new Chevrolet Silverado 1500 is equipped to take on the toughest jobs from Cincinnati, OH to Covington and beyond. It has the durability and unbeatable comfort that drivers need to count on their vehicle day in and day out. So, how much is the Chevy Silverado? The 2023 Chevy Silverado price starts at $35,600…