Regular tire rotation is necessary because it extends the life of your tires. Many drivers often ask, what does rotating your tires do, and how often to rotate tires. Both are important questions, and we have the information you need at the Tom Gill Chevrolet service center.
How Does Drivetrain Affect Tire Rotation?
When you accelerate, turn your wheels, brake, and go around in curves in Cincinnati, OH, you need friction between your tires and the road. Depending on the drivetrain your vehicle has, your tire treads will wear out at different rates.
Front-wheel drive vehicle: Engine power is directed to the front wheels, which handle the steering, starting, and most of the stopping force. Because of this, the front tires will wear out the fastest.
Rear-wheel drive vehicle: Engine power is directed to the rear wheels, even though the front wheels are still responsible for steering and much of the braking. The rear tires will still wear out faster than the front tires, but generally at a slower rate.
All-wheel drive vehicle: Engine power is evenly distributed, but there are many experts out there that say the rear tires will still wear out faster.
Intelligent all-wheel drive systems: Going around curves means different levels of strain and friction on the inside tires vs. outside tires. Some advanced all-wheel drive systems can even direct power to an individual wheel while driving around a curve for better cornering, which will further affect tire life.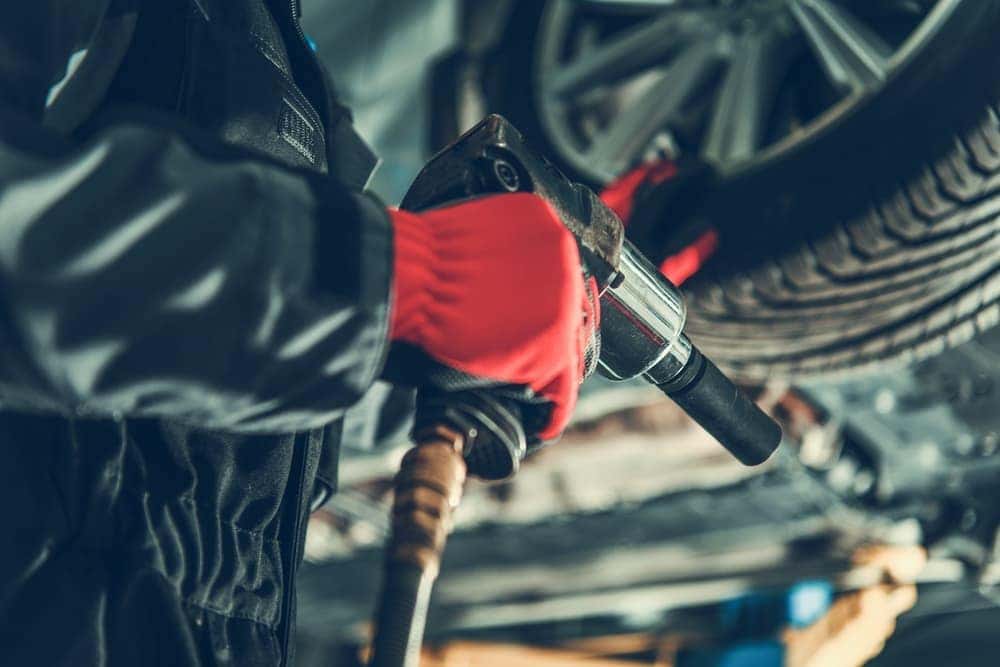 What Happens if I Don't Rotate My Tires?
If you don't schedule a service appointment for a tire rotation every 5,000 to 7,500 miles (or each time you get an oil change), they will wear out much faster than they should. Failing to rotate and replace tires at the right time can lead to unfortunate consequences:
Poor traction and skidding on the roads
More rapid deterioration of brake pads
Flat tires and blowouts
Get Your Tires Rotated at Tom Gill Chevrolet
If you want to learn more about the importance of tire care, summer car maintenance, or get any other essential service tips, visit us in Florence. When you're ready to bring your car into our service center for a tire rotation, don't forget to peruse our parts and service coupons so you can get an amazing deal! If you purchased your vehicle from the team here at Tom Gill Chevrolet, your tire rotations will be free for your vehicle's lifetime as part of the Tom Gill Oil and Tire Advantage!
More from Tom Gill Chevrolet
The vivid 2023 Chevy Trailblazer colors are stunning! There are several 2023 Chevy Trailblazer exterior colors to choose from, including a white Chevy Trailblazer. There are enough choices to ensure that this vehicle would look great in any Florence driveway. And we haven't even talked about the gorgeous interior options or the custom packages that…

There's a lot for Cincinnati, OH drivers to love about the 2023 Chevy Trailblazer interior. The 2023 Chevy Trailblazer interior colors are exquisite and make for a stylish ride. We're also impressed by the generous 2023 Chevy Trailblazer interior dimensions, especially when it comes to legroom and cargo space. Let's take a closer look inside this…

The new Chevrolet Silverado 1500 is equipped to take on the toughest jobs from Cincinnati, OH to Covington and beyond. It has the durability and unbeatable comfort that drivers need to count on their vehicle day in and day out. So, how much is the Chevy Silverado? The 2023 Chevy Silverado price starts at $35,600…