The Top 5 Kentucky Road Trips
Here at Tom Gill Chevrolet, our passion for Chevrolet vehicles is matched only by our passion for our home state of Kentucky. We were inspired by the journey of our client Francisco Undiks, who flew out from Denver, Colorado for the sole purpose of buying a new Chevy Malibu from our store and then took it on a cross-country road trip through Kentucky and back to his home in Colorado. While Francisco's story stirred up our adventuring spirit, we know not all of our customers have time to make a journey as epic as his, which is why we decided to highlight some fun road trips you can take right here in the Bluegrass State.
1. Woodlands Trace
Check out one of the most incredible scenic roadways in the country by starting at Land Between the Lakes National Recreation Area and following it all the way to Lake Barkley. Along the way, enjoy plenty of other activities, from the Gold Pond Planetarium and Observatory to Elk and Bison Prairie.
2. Heritage Highway
Get a real sense of Kentucky history by following the Wilderness Road Heritage Highway, which takes you along the paths of some of our state's earliest explorers and settlers through Cumberland Gap National Historic Park (frequented by Daniel Boone himself), Pine Mountain Resort Park, Levi Jackson Wilderness Road State Park, and more.
3. The Bourbon Trail
If you're native to Kentucky and of legal age, there's a good chance you're well aware of the Kentucky Bourbon Trail. For bourbon enthusiasts, it's become a bucket list excursion. Take the trip to each of the major bourbon distilleries in the state to learn more about this one-of-a-kind Kentucky tradition.
4. Country Music Highway
Taking you through the Appalachian Mountains in Eastern Kentucky, US-23—AKA "Country Music Highway"—takes you from Ashland to Whitesburg through mining country and past a variety of sites central to country music heritage. Don't forget to check out the Country Music Highway Museum and Jenny Wiley State Park along your way!
5. National Corvette Museum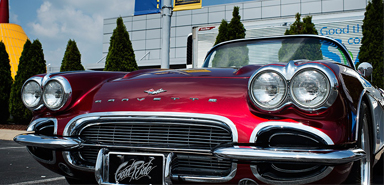 How could we discuss Kentucky road trips without including the National Corvette Museum on our list? Showcasing the legacy of America's iconic supercar, the National Corvette Museum takes you on a tour of the vehicle's history, all the way back to 1953. Experience it in person at 350 Corvette Drive in Bowling Green, KY, off I-65 Exit 28.
Take the Drive to Tom Gill Chevy
When you head out on your own adventure, whatever the destination, we hope you'll consider doing so in a shiny new Chevy. Tom Gill Chevrolet has the full lineup of new Chevys on sale now in our showroom, located at 7830 Commerce Drive in Florence, KY, just over the Ohio border from Cincinnati. If you want to set up a test drive or have any questions, feel free to give us a call during our regular sales hours any day of the week!
*Photo Credit
1. http://www.fhwa.dot.gov/byways/byways/2345
2. http://www.fhwa.dot.gov/byways/byways/2566
3. http://kybourbontrail.com/
4. http://countrymusichighway.com/countrymusichighway/
5. www.corvettemuseum.org