Top 5 Reasons Why You Need to Pick the Tom Gill Collision Center
If you've been in an accident or have had damage done to your car, you want to find a collision center with a reputation for excellence when it comes to auto body repair. Here at the Tom Gill Collision Center, we do it all. Whether you've been in a major accident or have an idea for a flashy new look for your car, the experts at our professional Collision Center can take care of your needs. Here are just five of the reasons we think we're the best shop around to handle all your auto body needs.
1. Professional Auto Body Repair Team
You've spent your hard-earned money on your vehicle, and you take pride in it. So when something goes wrong, you want to count on a team of factory-trained and certified technicians to handle all your auto body repairs. At Tom Gill Chevrolet, our GM, A.S.E, Akzo-Nobel, Chief, and ICAR trained technicians can get your vehicle back into like-new condition. From dent repair and restoration to paint jobs, we've got you covered.
2. Authentic Parts and Accessories
When you're shopping for accessories for your car—from roof racks to rear spoilers and remote start systems—remember that Tom Gill Chevy has a fully inventory of authentic factory parts and accessories in stock. When you go to other body shops in the greater Florence and Cincinnati, they may use aftermarket parts that are lesser quality. At Tom Gill Chevy, we don't work for your insurance company: we work for you.
3. Lifetime Warranty and Insurance Help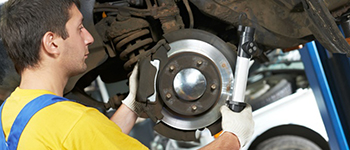 Getting repairs and auto body work taken care of can sometimes get expensive, but at Tom Gill Chevy you'll have the chance to sign up for a lifetime warranty to help decrease the costs of repairs and auto body work down the line. We also have experience working with a wide range of insurance companies to help you get the most for your money.
4. Fair Prices
When you shop at the Tom Gill Chevrolet collision center, you're always guaranteed a fair price. Our business model is based on providing our clients with the best possible service at the best possible price so they continue to come back.
5. Convenient Location
You don't have to drive far to get your vehicle repairs and auto body work taken care of. The Tom Gill Chevy Body Shop and Collision Center is located just a short drive from Cincinnati at 7830 Commerce Drive in Florence, KY. Feel free to contact us if you need any assistance of have questions before you come in.