Why is My Oil Leaking?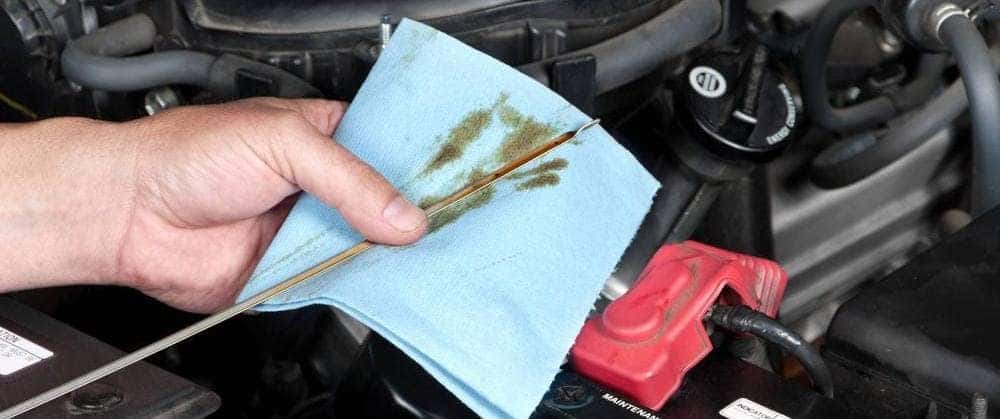 Most drivers who notice an oil filter leak dripping or puddling beneath their car are going to think the worst. While you should always investigate an oil filter leak, so you don't suffer engine damage or a breakdown around Cincinnati, OH, many of the causes are simple and easy to fix. There are several common oil leak causes, and most, like each of the following, are easy to fix when caught in time:
Leak in the gasket or seal
Loose plug or cap
Faulty oil filter
If you want to narrow down why your oil is leaking, consider a quick oil filter check for common oil leak causes. Not confident popping the hood of your car to find the leak? Let the %%di_namd%% Service Department in Florence help you learn how to fix an oil leak.
How to Fix an Oil Leak: Possible Causes
If you notice an oil leak or oil dripping from your car after an oil change, here are the first places to investigate:
Gasket and Seals
Whether your gasket is malformed or your seal is worn, any gaps and spaces can be a source for an oil filter leak. The most common oil leak cause is the "double gasket"—the old filter gasket sticks to the engine and goes unnoticed when a new filter's put in place. When two gaskets are accidentally placed together, it will lead to a messy blowout, which can be dangerous if it happens when you're driving.
In addition to making sure you don't have a double gasket, you need to make sure the rubber mounting gasket is in excellent condition, without nicks or dirt that can prevent it from sealing.
Oil Filter and Housing
If the oil filter is the wrong size, it may be crooked, which will lead to improper installation and oil dripping. Sometimes there's a housing attached to the engine for mounting the oil filter. Make sure all the parts of the housing are tightened, so they won't leak. It's also important that the oil filter is properly placed in the threading of the housing to avoid oil filter leaks.
Plug and Cap
If you're wondering why your oil is leaking, make sure the plug and cap are screwed on tight. Worn or loose components can be an oil leak cause, so check your engine to make sure all parts are properly tightened.
Over- or Under-Tightening
It's easy to go too far or not far enough when tightening the oil filter. It should be hand-tight, then turned 1/4 of the way around to finish. If an oil filter is over-tightened, it could ruin the filter gasket. When under-tightened, the engine can actually vibrate it out of place.
What's the Best Oil Filter for Your Car?
If you discovered your oil filter was at fault, you should probably be asking a professional what the best oil filter for your car is and where you can find it. Your owner's manual should have details on the specifics, but the best oil filter for your car is an OEM filter. An aftermarket part may get the job done, but aftermarket oil filters are designed to fit a wide range of cars — which means they rarely fit a single car perfectly. These fit issues could cause problems with installation oil leaks after an oil change. And that goes double if you installed it yourself. Professional mechanics are often skilled at making aftermarket parts fit the best they can. Even if you know how to fix an oil leak, it never hurts to leave the job to the pros.
Is Your Car Oil Dripping? Schedule an Appointment at Tom Gill Chevrolet!
When you need to have your vehicle checked for oil leaks because you're noticing oil dripping from your car after an oil change or at any other time, turn to the professionals at Tom Gill Chevrolet. We would be glad to help address the oil leak causes and help fix an oil leak in no time. Set up your service appointment today, or contact us for more information.
More From Tom Gill Chevrolet
The vivid 2023 Chevy Trailblazer colors are stunning! There are several 2023 Chevy Trailblazer exterior colors to choose from, including a white Chevy Trailblazer. There are enough choices to ensure that this vehicle would look great in any Florence driveway. And we haven't even talked about the gorgeous interior options or the custom packages that…

There's a lot for Cincinnati, OH drivers to love about the 2023 Chevy Trailblazer interior. The 2023 Chevy Trailblazer interior colors are exquisite and make for a stylish ride. We're also impressed by the generous 2023 Chevy Trailblazer interior dimensions, especially when it comes to legroom and cargo space. Let's take a closer look inside this…

The new Chevrolet Silverado 1500 is equipped to take on the toughest jobs from Cincinnati, OH to Covington and beyond. It has the durability and unbeatable comfort that drivers need to count on their vehicle day in and day out. So, how much is the Chevy Silverado? The 2023 Chevy Silverado price starts at $35,600…