Why is Oil Leaking from the Oil Filter?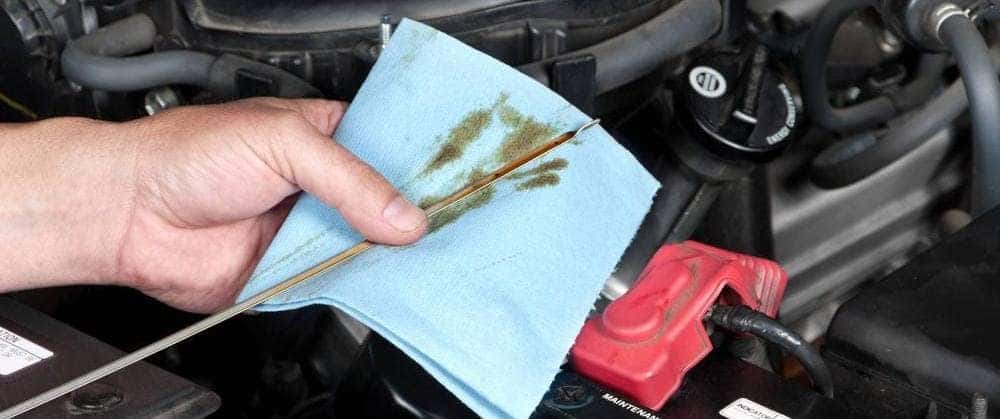 Most drivers who notice an oil leak dripping or puddling beneath their car are going to think the worst. While you should always investigate an oil leak so you don't suffer engine damage or a breakdown around Cincinnati, OH, many of the causes are simple and easy to fix. One of the easiest to identify is an oil filter leak, which could be due to:
A leak in the gasket or seal
A loose plug or cap
A faulty oil filter
If you want to narrow down why is oil leaking from your oil filter, consider a quick oil filter check to gather more clues. Not confident popping the hood of your car to find the leak? Let the service department at Tom Gill Chevrolet in Florence do it for you.
Common Oil Filter Problems
If you notice oil leaking from the oil filter, here are the first three places to investigate during your oil change:
Gasket and seals are a common spot for problems. Whether your gasket is malformed or your seal is worn, any gaps and spaces can be a source for leaks.
Your oil filter itself might be an issue. It may be the wrong size, it may be crooked, or it may be improperly installed.
The plug and cap need to be screwed on tight to prevent leaks. Worn or loose components can cause problems, so check your engine to see.
One of the most common causes of leaks is often an unexpected one for the DIY mechanic: your oil filter wrench. Or, more importantly, that many drivers try to do their own oil changes by hand-tightening the filter instead of using a wrench. An oil filter wrench is not necessary, but that final quarter turn with the wrench can be the difference between a filter that leaks and one that doesn't.
What's the Best Oil Filter for Your Car?
If you discovered your oil filter was at fault, you should probably be asking yourself what the best oil filter for your car is and where you can find it. Your owner's manual should have details on the specifics, but the best oil filter for your car is an OEM filter.
An aftermarket part may get the job done, but aftermarket parts are designed to fit a wide range of cars — which means they rarely fit a single car perfectly. These fit issues could cause problems with installation and lead to leaks. And that goes double if you installed it yourself; professional mechanics are often skilled at making aftermarket parts fit the best they can.
Is Your Car Leaking Oil? Schedule an Appointment
When you need to have your vehicle checked for oil leaks, turn to the professionals at Tom Gill Chevrolet. We would be glad to help address the cause of the oil leak and have it fixed in no time. Set up your service appointment today, or contact us for more information.
More From Tom Gill Chevrolet
With this SUV's affordable price, you might think that the 2022 Chevy Trailblazer interior isn't spacious and full of great technology and comfort amenities. Think again! The Chevy Trailblazer dimensions are plentiful, and the 2022 Chevy Trailblazer interior is well-equipped with features you might expect to be a lot more expensive. With seating for…

When you choose a 2021 Chevy Silverado for work and/or play in Cincinnati, OH, your Chevy Silverado bed size will be based on which type of cab you choose. Tom Gill Chevrolet has your guide to how to configure your truck, so you get the Chevy Silverado short bed size, standard bed size, or long bed size…

Are you wondering how many seats are in a Chevy Equinox? Or, are you curious about the 2022 Chevy Equinox interior colors? No matter what you'd like to know about the 2022 Chevy Equinox interior, Tom Gill Chevrolet is here with the answers! Take a look inside this five-seat crossover SUV that Cincinnati, OH drivers love, then…