The 2015 Chevrolet Cruze Diesel Provides Impressive MPG
The 2015 Chevrolet Cruze Diesel Provides Impressive MPG
Among the most popular small sedans in the segment, the 2015 Chevrolet Cruze Diesel proves an excellent choice. Not only is it environmentally friendly with lower emissions than any other diesel engine, but it also guarantees more fuel efficiency and power than most other powertrains available today. Take a moment to discover what the 2015 Chevrolet Cruze Diesel has in store for you.
Performance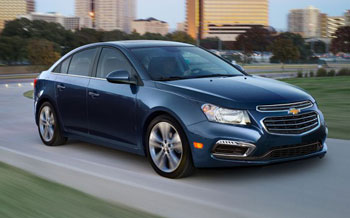 The only small domestic vehicle to offer a diesel engine, the 2015 Chevrolet Cruze Diesel is perhaps the cleanest and most practical compact car currently on the market. Powered by a turbocharged 2.0L clean diesel engine, the Cruze Diesel generates up to 90 percent less nitrogen oxide and 90 percent less particulate emissions than any such powertrain in the past.
This engine gets an impressive 151 hp and 264 lb-ft of low-end torque, more than competing vehicles in this category. Drive-wise, the Cruze Diesel provides a smooth ride, with satisfyingly smooth acceleration, gathering speed quickly once you hit the gas pedal. Its transmission is responsive, especially in passing, and though the diesel engine does make a little more noise than the standard engines, it's hardly noticeable in most situations.
Fuel Efficiency
The 2015 Chevrolet Cruze Diesel boasts an impressive fuel range of 717 miles—that would get you all the way from Florence to New York City on just one tank of gas, and you'll have some to spare! Fuel economy tops out at an impressive 46 mpg on the highway.
Features
With plenty of performance-oriented features to offer, the 2015 Chevrolet Cruze Diesel is tough to beat. From aerodynamic enhancements like a rear spoiler and lightweight 17-inch wheels with low-rolling-resistance tires to combat friction and provide more fuel efficiency, to four-wheel disc brakes to help safely lower speeds safely when you slow down, the Cruze Diesel has been properly equipped to bring you ultimate performance.
Take the 2015 Chevrolet Cruze Diesel for a Spin Today!
To test-drive the 2015 Chevrolet Cruze Diesel, contact the sales staff at Tom Gill Chevrolet or stop by the dealership at 7830 Commerce Dr. in Florence, KY.