Can You Trade in a Financed Car?

Can you trade in a financed car? The short answer is yes. But the more involved question is, "How does trading in a financed car work?" It's more complicated than just trading in a car, and there are a few stipulations to keep in mind for trading in a financed car. But it is possible for Cincinnati, OH drivers, and Tom Gill Chevrolet can help.
How Does Trading in a Financed Car Work?
Now knowing that trading in a car is possible, you might still be asking how does trading in a financed car work? Trading in a financed car can be a smooth transition if the remaining amount you owe is less than what your vehicle is worth.
Consider this:
Imagine you owe $9,000 and the dealership offers you $10,000.
With that amount, your car would be paid off and you'd have $1000 to put towards your next new vehicle.
If you have a model in mind, our trade-in value tool will allow you to see if trading in your financed car would be smart financially.
We also offer competitive lease rates, if you wanted to trade in a financed car for a lease.
But what if your car's value is less than the remainder of your loan? You might need to roll over your loan into a new car loan.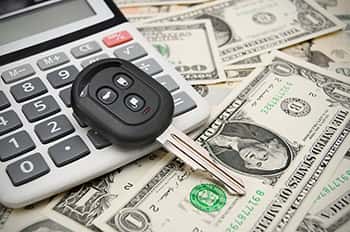 What Does it Mean to "Roll Over" a Loan?
Rolling over a loan means that the Independence dealer you're working with will pay off the remainder of your current loan. Keep in mind, that amount doesn't go away; the money is added onto the new car loan. Even though you do pay the amount in full eventually, this can still be a great way to find a new car that fits your current needs in Florence.
Visit Tom Gill Chevrolet for All Your Financing Needs!
If you'd like to have more information on trading in a financed car, or considering trading in a financed car for a lease, contact us! Our finance team is committed to helping you find the best possible deal. Tom Gill Chevrolet is looking forward to helping you find your next vehicle!
More from Tom Gill Chevrolet
Looking for a spacious, stylish, and well-equipped midsize sedan for sale near Cincinnati, OH? Look no further than the 2020 Chevy Malibu, available today here at Tom Gill Chevrolet! The Chevy Malibu boasts a modern high-tech interior and attractive, sleek exterior. Learn more about the Chevy Malibu inside space and specs with us by reading more. Then, contact…

Searching for a spacious new full-size truck for sale near Florence? Look no further than the 2020 Chevy Silverado 1500 from Tom Gill Chevrolet! This capable full-size truck has so much to offer Cincinnati, OH and Covington drivers alike. Considering competitors? Compare the Silverado to its main competitors below: 2020 Chevy Silverado 1500 vs. GMC Sierra 1500 2020…

Looking for a compact SUV for sale in Florence that's stylish enough to get you noticed yet spacious enough to accommodate your practical needs? Look no further than the 2021 Chevy Trailblazer for sale here at Tom Gill Chevrolet! The new Chevy Trailblazer's interior offers a whole lot to love, from the latest in Chevy technologies like…