The Reviews Love the 2016 Chevrolet Silverado 1500
The 2016 Chevrolet Silverado 1500 is a full-size pickup truck that returns to the lineup this year with a number of incremental changes and a range of competitive advantages. All of this has led to some praiseworthy 2016 Chevrolet Silverado 1500 reviews from some of the auto industry's most respected publications and critics.
Kelley Blue Book gives the new Silverado 1500 a "competitive edge," while AutoTrader praises this model's "elegant interior" and "modern technology." Finally, Left Lane News gets to the heart of the matter by noting the new pickup's "improved power and fuel economy." Take a closer look at what the critics had to say before making your way from Cincinnati to Tom Gill Chevy in Florence, KY for a test drive.
Edmunds Calls the Silverado a "Solid Choice"
"A wide range of body styles, an impressive interior and a lineup of powerful and fuel-efficient engines make the 2016 Chevrolet Silverado a solid choice in the full-size pickup class."
Take your pick between three powerful and fuel-efficient powertrain options. The 4.3L V6 engine makes 285 hp and 305 lb-ft of torque, the 5.3L V8 engine gets 355 hp and 383 lb-ft of torque, and the top-of-the-line 6.2L V8 dishes out 420 hp and 460 lb-ft of torque. The best fuel economy comes from the RWD version of the V6 engine at an EPA-estimated 24 mpg highway and 18 mpg city, but there's no version of this pickup that gets worse than 21 mpg highway and 15 mpg city.
The Car Connection Praises "a Mother Lode of Technology"
"The 2016 Chevrolet Silverado takes a traditional truck path but counters that with a comfortable, refined interior and a mother lode of technology."
There's no questioning the ability of the 2016 Chevrolet Silverado 1500 to get big jobs done with relative ease, and now it can do it while providing drivers and passengers with more comfort, convenience, and entertainment inside the cabin. This model is offered with two new touchscreens with a quicker Chevy MyLink interface and smartphone integration via Apple CarPlay and Android Auto.
Kelley Blue Book Says the Silverado has a "Competitive Edge"
"Although there are only two noteworthy changes to the 2016 Chevrolet Silverado lineup of full-size pickups, together they go a long way toward improving the big Chevy trucks' competitive edge in this hotly contested market."
Following a recent redesign, the 2016 Chevrolet Silverado 1500 takes a big step forward with a bold new look to go along with its bold performance specs and modern cabin. This includes an aggressive front and rear end designs, a more imposing front grille, and stylish new headlights with LED accents on upper trim levels. You can also get a hefty eight-speed Allison transmission on the 5.3L V8 engine.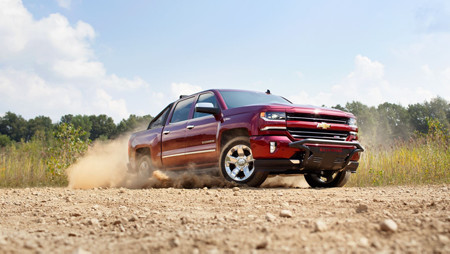 Write Your Own Review at Tom Gill Chevrolet
There's no lack of praise to go around for the 2016 Chevrolet Silverado 1500. Find out what the buzz is about by test driving the newest rendition of this steel-framed pickup at Tom Gill Chevy. Our dealership is located near Cincinnati at 7830 Commerce Drive in Florence, KY. Give us a call or contact us online if you have any questions.