Surveying the 2016 Chevrolet Impala Reviews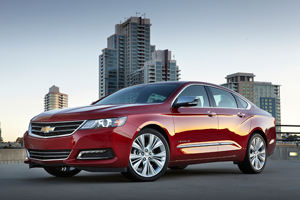 There is a reason that the Chevrolet Impala has been on the road for so long—it offers everything that drivers are looking for in a full-sized sedan. That means it's spacious, powerful, and loaded with the best features on the market. The 2016 Chevrolet Impala has all of those characteristics and more, but you don't have to take our word for it. Check out what the critics have to say in their reviews of the 2016 Chevrolet Impala, and then visit Tom Gill Chevrolet in Florence to experience the car in person.
The Car Connection
"The 2016 Chevrolet Impala scores big wins in styling, handling, connectivity, and safety."
The Impala entered a new generation in 2014, incorporating a brand new look, better driving dynamics, and a lot of new technology. This model proved so popular that Chevrolet hasn't made any major changes for 2016. However, Chevrolet has installed Apple CarPlay for the first time, meaning you can more easily and intuitively access your smartphone's apps while on the go.
Kelly Blue Book
"The Impala offers a handsome and roomy interior, impressive safety features, and the most powerful naturally aspirated V6 engine in its class. A smooth ride, excellent handling abilities, and good fuel economy only serve to sweeten the deal."
Speaking of that engine, it's a 3.6L V6 that puts out 305 hp and 264 lb-ft of torque. If that is a little more power than you need, you can stick with the base engine, which is a 2.5L four-cylinder that produces 195 hp and 187 lb-ft of torque and gets 31 mpg on the highway.
Edmunds
"The Impala's dynamic, modern exterior writes checks that its interior is pleased to cash."
The interior really is stylish, boasting a wraparound dashboard, high-quality materials throughout, plush seating, and plenty of space for all five passengers. You also have a massive trunk that gives you 18.8 cubic feet of dedicated cargo volume and a folding rear seat for those times when you need more.
Test Drive the 2016 Chevrolet Impala at Tom Gill Chevrolet
Across the industry, automotive critics are eager to sing the praises of the 2016 Chevrolet Impala. Take your own tour and test drive at Tom Gill Chevrolet, located at 7830 Commerce Dr. in Florence, KY.