The 2016 Chevrolet Silverado 1500 is a Performance Beast
For shoppers in the full-size pickup truck class, the 2016 Chevrolet Silverado 1500 delivers unquestionable value and high-end performance with a trio of commanding engines, commanding towing capabilities, and a seriously capable off-road performance package. Choose between a 4.3L V6, a 5.3L V8, and a 6.2L V8 engine option. The V6 offers the best fuel economy in the bunch with up to an EPA-estimated 24 mpg highway and 18 mpg city, while the 6.2L V8 can tow up to 12,000 pounds when properly equipped. All models are offered with your choice of rear-wheel drive and four-wheel drive.
4.3L V6 Engine
This base engine on the Chevy Silverado 1500 comes standard on all but the top two trim levels. It comes mated to a six-speed automatic transmission and dishes out 285 hp and 305 lb-ft of torque. With the RWD setup it gets an EPA-estimated 24 mpg highway and 18 mpg city, while four-wheel drive drops those numbers to 22 mpg highway and 17 mpg city. Properly equipped, a Silverado 1500 with this powertrain can tow up to 7,600 pounds.
5.3L V8 Engine
The mid-level 5.3L V8 engine comes standard with the six-speed automatic, but this year it's also offered with a beefier eight-speed automatic on the top two trims. Total output on this model is 355 hp and 383 lb-ft of torque, and a properly outfitted version can tow up to an impressive 11,100 pounds. RWD models get an EPA-estimated 23 mpg highway and 16 mpg city, while 4WD versions get 21 mpg highway and 15 mpg city.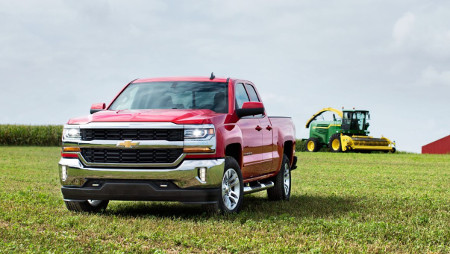 6.2L V8 Engine
Topping off the lineup is this 6.2L V8, which comes standard with the eight-speed automatic. It pumps out a robust 420 hp and 460 lb-ft of torque and can tow up to 12,000 pounds. Whether you go with the rear-wheel drive or four-wheel drive, EPA estimates are the same at 21 mpg highway and 15 mpg city.
Z71 Off-Road Package
Off-road enthusiasts who like the idea of a full-size pickup over an SUV will be impressed with the Chevy Silverado 1500. In addition to its available 4WD system, you can opt for the Z71 off-road package for even more off-road capabilities. If you go with this package, you'll get serious equipment for off-road trekking like heavy-duty shock absorbers, hill descent control, shields for the underbody, an air cleaner that can handle excess dust, and recovery hooks.
Experience the 2016 Chevrolet Silverado 1500 at Tom Gill Chevy
There are a lot of reasons to get excited about the 2016 Chevrolet Silverado 1500 performance specs. Find out if this is the right full-size pickup truck for your daily driving and big job needs by getting behind the wheel at Tom Gill Chevrolet. You can find our dealership just a short distance from Cincinnati at 7830 Commerce Drive in Florence, KY. We have competitive financing available, and you can reach us anytime to set up a test drive or find out more.