2016 Chevrolet Camaro vs 2016 Chevrolet Impala
If you've explored the Chevrolet lineup lately, there's a good chance you've come across the all-new 2016 Chevrolet Camaro and the refreshed 2016 Chevrolet Impala. Both of these vehicles provide drivers with a wide range of capabilities, stylish design, and various high-tech features inside the cabin. However, there are some significant differences to consider between this American muscle car and large sedan. Check out how these models stack up before making your decision, and then check them out in person at Tom Gill Chevrolet, your Cincinnati-area Chevy dealer in Florence, KY.
Each Model at a Glance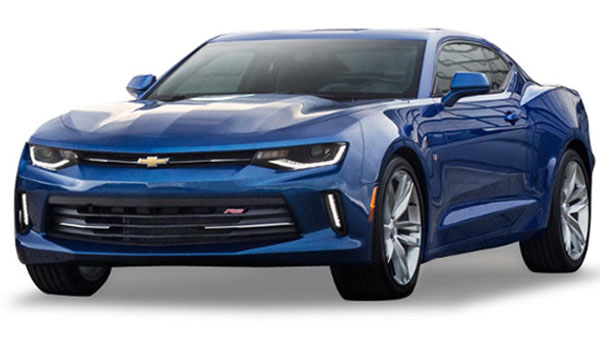 2016 Chevrolet Camaro
Fully redesigned with a new take on a classic muscle car design
Three powerful engine options, including a commanding 6.2L V8
Available as a coupe and convertible
Crisp handling around corners
2016 Chevrolet Impala
Large family sedan
Seating for up to five passengers and a large trunk for trips
Available V6 power
Equipped with the latest car features
Design
The 2016 Chevrolet Camaro is designed based on its well-known heritage as a classic American muscle car. As such, it features strong lines from front to back and a wide stance on the road. It's a two-door coupe or convertible, and there's standard seating for four passengers. In the trunk, you'll have 9.1 cubic feet in the coupe or 7.3 cubic feet with a convertible.
If you opt for the 2016 Chevrolet Impala, you'll have the more spacious dimensions of a large family sedan. The focus on this vehicle is comfort above all else, which is why there's plenty of room for up to five adults. In fact, the new Chevrolet Impala offers surprising legroom for rear seat passengers inside an interior that measures a capacious 123.8 cubic feet overall. In addition to that, this model comes with a trunk that provides 18.8 cubic feet.
Performance
The 2016 Chevrolet Camaro has been designed and engineered with performance at the forefront. The new base powertrain on this model is a 2.0L turbocharged inline-four that's good for 355 hp and 284 lb-ft of torque, enough for it to sprint to 60 mph in just 5.4 seconds. Upgrade to the 3.6L V6 engine for 335 hp, 284 lb-ft of torque, and a bolt to 60 mph in just 5.1 seconds. The most powerful engine in the group is a 6.2L V8 with a robust output of 455 hp and 455 lb-ft of torque, which is enough for it to zoom to 60 mph in only 4.0 seconds.
The 2016 Chevrolet Impala is offered with a pair of engine options. Standard on the LS and 1LT trims is a 2.5L inline-four that delivers a balanced 196 hp and 186 lb-ft of torque. Those who want a bit more push behind the wheel can step up to the 2LT or 2LTZ trim for a 3.6L V6 engine that makes 305 hp and 264 lb-ft of torque.
Price
These two Chevrolet start off priced fairly similar and have a wide range of options:
Chevrolet Camaro Price: MSRP from $25,700 for a base coupe to $49,795 for a fully loaded convertible
Chevrolet Impala Price: MSRP from $27,095 for an LS to $35,540 for a fully loaded model
Which of These Vehicles is the Best Fit for You?
There is a lot to take into consideration when comparing the 2016 Chevrolet Camaro to the 2016 Chevrolet Impala. If you're looking for a fun sports car that won't be the primary mode of transportation for a large family, and if you have the budget to spend on it, then the 2016 Chevrolet Camaro is an experience that goes unmatched. On the other hand, if your primary motive for buying a vehicle is to get a number of people around with a large amount of cargo at an affordable price, then the 2016 Chevrolet Impala might be the better option.
Explore the 2016 Chevrolet Camaro and 2016 Chevrolet Impala Today
With a basic rundown of the 2016 Chevrolet Camaro and 2016 Chevrolet Impala, you probably have a better sense of which vehicle is the best pick for you. Don't make your decision before taking the drive from anywhere around Cincinnati to test drive both of these vehicles at Tom Gill Chevrolet. We're located at 7830 Commerce Dr. in Florence, KY, and you're welcome to contact our sales team with questions.